Cochrane Environmental Action Committee Website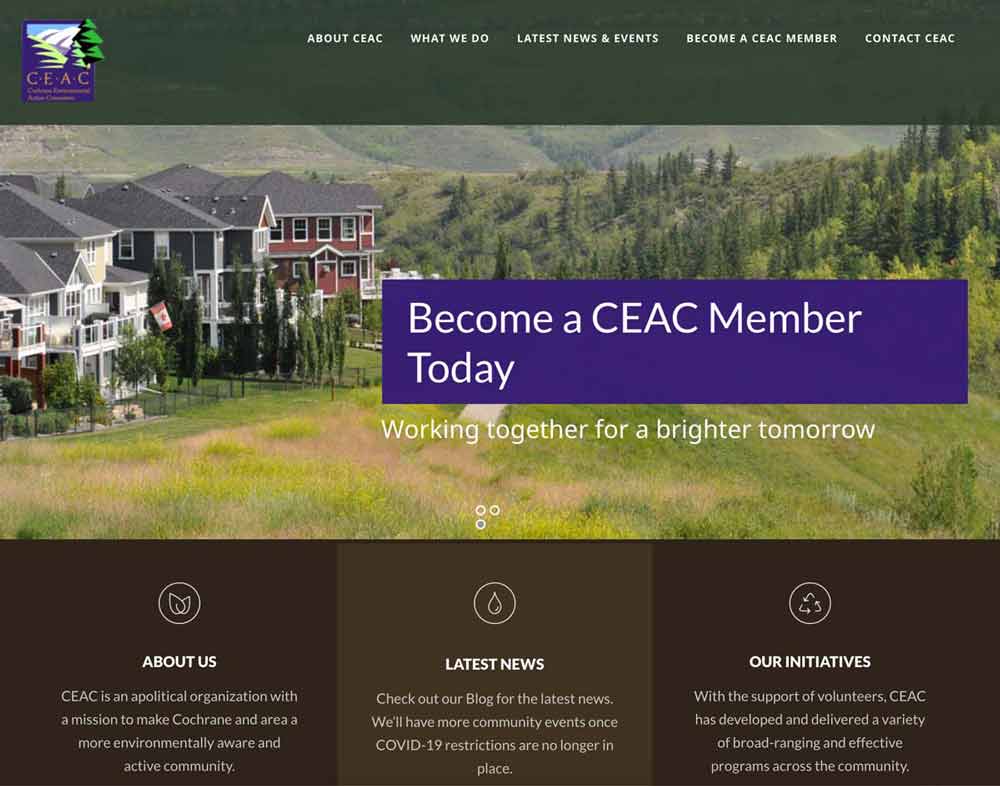 The Cochrane Environmental Action Committee (CEAC) is a group of volunteers who want to help bring environmental awareness to the community of Cochrane. During my time volunteering for the committee, I created a new website for them as their previous site hadn't been updated since the early 2000s. I was tasked as project manager and worked with another volunteer who was the content creator and an experienced WordPress user. They let me take the reins on designing the site and offered their knowledge when we needed to troubleshoot some technical problems.
For the website we were given the theme that the committee had decided on and that was all. It was great to have so much creative freedom and trust from the volunteers, and the first step I took was to make a list of the pages that were required and what they would entail. After establishing what the site would include, I created two task lists, one for myself and my content creator. We would then meet up once a week to discuss our progress, assign new tasks, and make sure that we kept to our self-imposed goal of finishing by the end of the summer.
One goal that I had in mind while designing the site was to incorporate the large amounts of text in a more visual manner as the old site was more of a blog format which we agreed didn't suit CEAC's needs. By using images and breaking up important sections of text into smaller more visual block of information, the new site is designed to more visual instead of just paragraphs of text.
The colour scheme I chose based on the colours of the CEAC logo, using the same greens, browns and purples. After the design of site was nearly complete, I decided to use my photography skills to take some pictures for the site as I wanted there to be lots of imagery to help show the beauty of Cochrane's nature and to showcase past events that the committee has done.
Volunteering for CEAC was a great experience and I'm very grateful to have been a part of an amazing organization that supports the spread of awareness for the environment.