Short Comic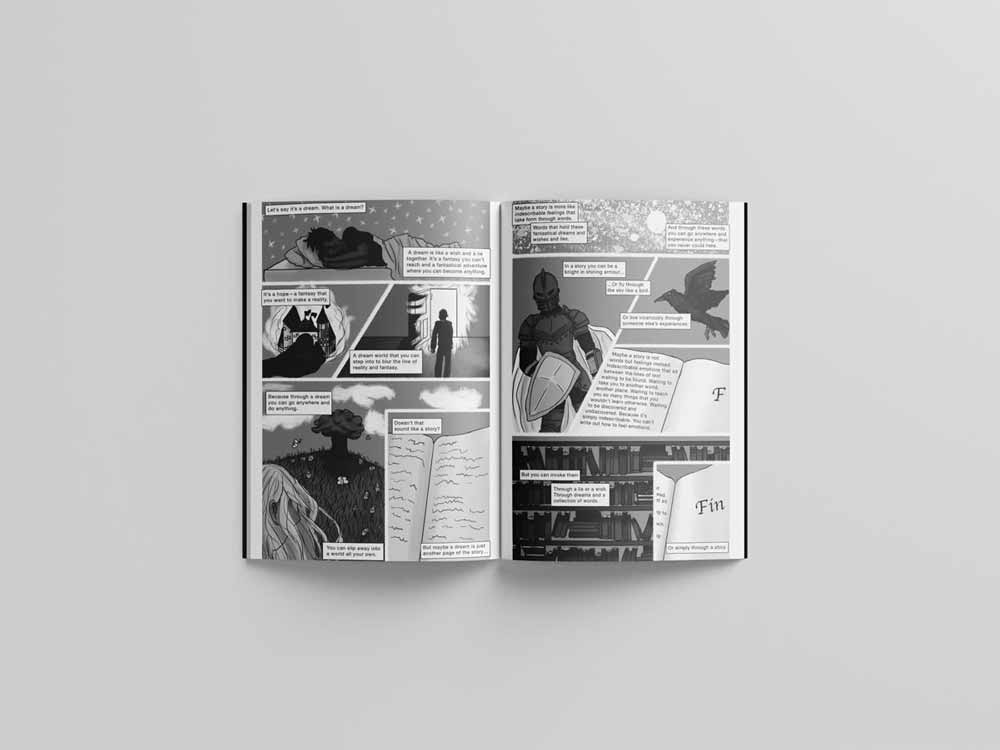 This comic book project was a self-proposed school assignment that I completed while at SAIT. I proposed a four-page comic book to further develop my digital drawing, storytelling and planning skills. To create a comic requires planning for the story as well as the placement of the text, and that outlining allowed me to gain more experience as a graphic designer.
This was a very fun project to complete as I had never created a comic before—let alone a digital comic, so I was excited to get out of my comfort zone and expand my skill set. Drawing with a monochromatic colouring style was also new to me and it was a fun challenge to take on.
To start, I planned out the story that I wanted to tell through the comic. In the end I wrote a poem that goes into what a story is made up of, and I chose to use a poem so that I could draw a variety of different objects and people to really expand and hone my digital drawing skills. After I finished the poem, I started planning out the panels of the comic based upon what imagery and words would go in the panel. After the planning of the panels was complete the next part was to draw thumbnail sketches and roughly outline the text for each panel.
Upon completion of the sketches, I took to Adobe Photoshop to layout the panels, text, and margins. After the outlining was finished, I started on the line art for each panel, flat colours, and finally the highlights and shading.
One of the challenges that I faced with this project was adapting to colouring in black and white as I had never attempted it before, and it was a great way to hone my digital drawing skills.
This project went very smoothly due to the in-depth planning that I had taken the time to outline at the beginning and I'm grateful that this assignment allowed me to further hone a variety of different skills.